Hey everyone. The meme has grown a little quieter recently, and I know a huge part of that is my fault - I haven't been giving this place the attention it deserves, and for that I apologise profusely.
In an effort to help revive things a little, I'm temporarily putting a hold on new prompt posts. I stress that this is
temporary
, and there will be the opportunity to vote for new prompt posts in the future. But for the time being, I'm going to try to focus attention on the prompt posts that are already up and running.
Which means it's time for a new Fill-A-Thon!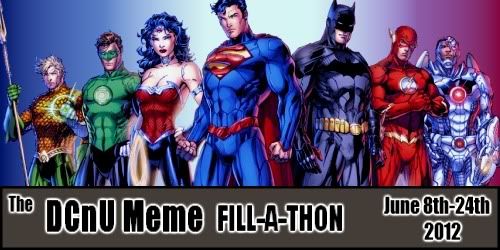 We're going through the prompt posts in order, so next up is
The DCnU Meme
! The rules are the same as
our last Fill-A-Thon
.
♥ From now until June 7th, you're welcome to post new prompts at
The DCnU Meme
like normal.
♥ From June 8th to June 24th, all new prompts in
The DCnU Meme
will be temporarily screened, as we try to get as many new fills as possible.
♥ All prompts are eligible for the Fill-A-Thon, whether they already have one or more fills or none at all.
♥ There'll be a special masterlist to celebrate the fills created for the Fill-A-Thon.
♥ All other prompt posts will be open for business as usual.
So feel free to head on over to
The DCnU Meme
and leave some new prompts to help inspire people! Also, if you'd like to advertise the Fill-A-Thon, that would be
hugely
appreciated! For LJ users, just copy/paste the HTML below. Please feel free to use the banner to promote on any other sites you frequent, the more the merrier! ♥
♥ The DCU-Memes Hub Post ♥
Rules & Information ♥ Questions & Discussion ♥ News & Updates
Filled & Unfilled Prompts ♥ Report Your Fills ♥ Canon Recs & Resources
AO3 Collection ♥ Pimping Post ♥ Affiliates ♥ Friending Meme